INDUSTRIAL SOLUTIONS FOR THE TREATMENT OF ORGANIC MATTER USING INSECTS
MISSION
Development of industrial projects for the production of insects for the transformation of organic matter into raw materials with high added value.
VISION
To be the leading company in the valorization of organic matter using insects worldwide, recognized by all the groups interested in the activity of the company.
VALUES
Collaboration, innovation, perseverance, industrialization, teamwork, internationalization, circularity.
BLACK SOLDIER FLY
Hermetia illucens (Linnaeus, 1758) is commonly known as "soldier fly" (Black Soldier Fly) and belongs to the Stratiomyidae family. This species is possibly native to America (Kovac & Rozkosny, 1995) but because of anthropic activity it has spread throughout the humid and subtropical tropical regions of the planet (James, 1935). In Europe this species was registered for the first time in Malta in 1926, and since then it has been cited in other countries of the Mediterranean area, such as Albania, Croatia, France, Italy, southern Switzerland, Portugal and Spain (Martínez-Sanchéz et al. ., 2011). In the Iberian Peninsula, H. illucens was registered for the first time in 1954 in Spain, and in Portugal in 1995 (Martínez-Sánchez et al., 2011).
The larvae of this species have an essentially elongated shape (0.85 to 30 mm) with a tapered anterior end and a rounded posterior shape. The tegument is whitish to darker, and strongly sclerotized according to age (Müller, 1925). Larvae can develop in a wide variety of organic matter, from manure and decaying meat, to fruits and vegetables. They cross six larval stages, and in their last phase, they sclerotize and adopt a dark color, until forming a black and motionless pupa.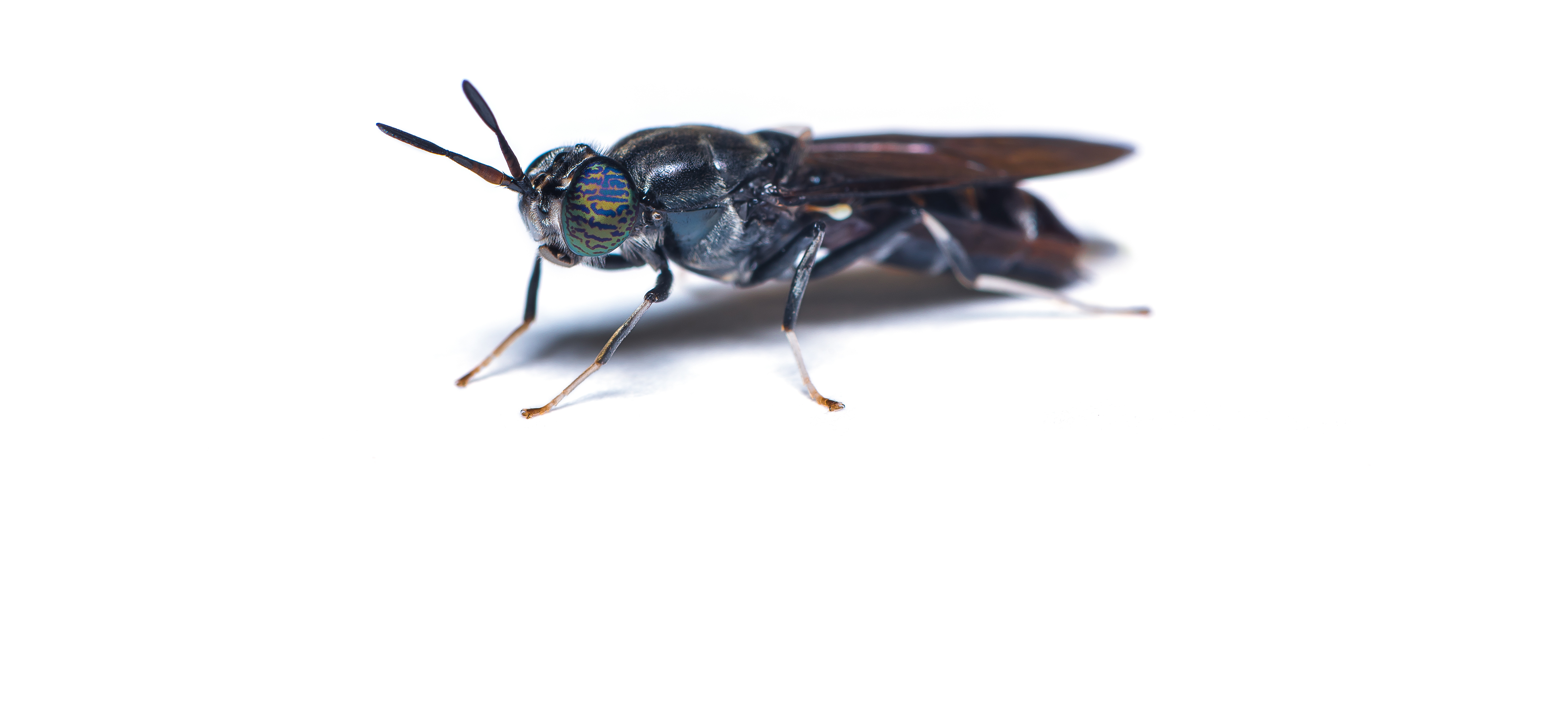 DATA OF INTEREST
0
% DRINKING WATER FOR AGRICULTURE
0
% OF THE CULTIVABLE EARTH TO FEED LIVESTOCK
0
KG. RESIDUES PER PERSON AND YEAR
0
% INCREASED FOOD PRODUCTION IN 2050
OUR
MODEL
BUSSINES
SERVICE
IMPACT
Accelerated by Ship2B

ACCELERATION | ENTREPRENEURSHIP | INVESTMENT

ENTREPRENEUR OF THE MONTH AWARD 2018

Innovative SME

Ministry of Science, Innovation and Universities

ENTREPRENEUR OF THE YEAR AWARD 2018

INFO Region of Murcia – CLH

GENERACCIÓN AWARD

Deloitte | COTEC | Real Academia de Ingeniería

SOLAR IMPULSE

SOLAR IMPULSE FOUNDATION

1000 Solutions to Change the World
FOR THE FUTURE
The increase in world population leads to the urgent need for additional supplies of protein from sustainable sources for inclusion in animal feed.
entomo agroindustrial
Europe imports 70% of its protein needs, it is known as "protein deficit"
entomo agroindustrial
The European Union generates 88 million tons of biodegradable organic waste and up to 1.4 million tons of manure each year.
entomo AgroIndustrial
Insects are a source of valuable nutrients for animal feed, with high content of fat, protein, vitamins, fiber and with a very significant concentration of minerals.
entomo agroindustrial
Fly larvae can reduce the mass of organic waste up to 60% in 10 days.
entomo AgroIndustrial
We enable the transformation of by-products and waste from the agro industry using insects.
entomo AgroIndustrial
MISSION OF TRAINING AND ENCOUNTERS IN ENTREPRENEURIAL ECOSYSTEM ISRAEL
We have participated in the MISSION OF TRAINING AND ENCOUNTERS IN ENTREPRENEURIAL ECOSYSTEM ISRAEL, from September 2 to 6, 2018, organized by the Institute of Development of the Region of Murcia and co-financed by the European Regional Development Fund (ERDF) and the Institute of Promotion of the Region of Murcia.